1st           2nd          Final
Wisconsin Badgers
WISC            31             33              64
Villanova Wildcats                       27             35              62
| Team Stats | VILL | WISC |
| --- | --- | --- |
| Field Goals (m-a) | 21 – 51 | 26 – 49 |
| Field Goal % | 41% | 53% |
| 3-Point (m-a) | 5 – 16 | 6 – 18 |
| 3-Point % | 31% | 33% |
| Free Throw (m-a) | 15 – 21 | 6 – 14 |
| Free Throw % | 71% | 42% |
| Fast Break Points | 0 | 0 |
| Points in the Paint | 0 | 0 |
| Total Rebounds | 32 | 35 |
| Assists | 5 | 9 |
| Turnovers | 7 | 14 |
| Steals | 8 | 3 |
Player Stats
Player
REB
A
PTS
FGM-A
3PM-A
FTM-A
STL
BLK
TO
MIN
PF
Mikal Bridges
7
0
0
0-4
0-1
0-0
0
0
1
–
3
Darryl Reynolds
5
0
2
1-2
0-0
0-0
1
0
1
–
1
Kris Jenkins
2
1
6
2-9
0-2
2-2
1
0
0
–
2
Jalen Brunson
2
1
11
5-11
0-4
1-1
2
0
0
–
0
Josh Hart
3
0
19
5-9
1-4
8-10
1
0
4
–
3
Matt Kennedy
0
0
0
0-0
0-0
0-0
0
0
0
–
0
Tom Leibig
0
0
0
0-0
0-0
0-0
0
0
0
–
0
Tim Delaney
0
0
0
0-0
0-0
0-0
0
0
0
–
0
Phil Booth
0
0
0
0-0
0-0
0-0
0
0
0
–
0
Denny Grace
0
0
0
0-0
0-0
0-0
0
0
0
–
0
Dylan Painter
0
0
0
0-0
0-0
0-0
0
0
0
–
0
Donte DiVincenzo
5
2
15
5-11
3-4
2-4
3
0
0
–
2
Eric Paschall
3
1
9
3-5
1-1
2-4
0
1
1
–
4
Player Stats
Player
REB
A
PTS
FGM-A
3PM-A
FTM-A
STL
BLK
TO
MIN
PF
Zak Showalter
2
1
4
2-6
0-4
0-0
0
1
2
–
0
Bronson Koenig
1
1
17
7-11
3-6
0-0
1
0
3
–
4
Vitto Brown
3
2
9
3-6
3-6
0-0
0
1
2
–
1
Nigel Hayes
8
1
19
8-15
0-1
3-7
0
1
1
–
3
Ethan Happ
8
3
12
5-8
0-0
2-4
2
2
1
–
4
D'Mitrik Trice
1
0
0
0-2
0-1
0-0
0
0
2
–
3
Charles Thomas, IV
0
0
0
0-0
0-0
0-0
0
0
0
–
0
Aaron Moesch
0
0
0
0-0
0-0
0-0
0
0
0
–
0
T.J. Schlundt
0
0
0
0-0
0-0
0-0
0
0
0
–
0
Alex Illikainen
0
0
0
0-0
0-0
0-0
0
0
0
–
0
Brevin Pritzl
0
0
0
0-0
0-0
0-0
0
0
0
–
2
Jordan Hill
1
1
0
0-0
0-0
0-0
0
0
0
–
0
Andy Van Vliet
0
0
0
0-0
0-0
0-0
0
0
0
–
0
Matt Ferris
0
0
0
0-0
0-0
0-0
0
0
0
–
0
Khalil Iverson
4
0
3
1-1
0-0
1-3
0
0
3
–
2
The 8th-seeded Wisconsin Badgers (26-9) face the top-seeded Villanova Wildcats (32-3) in the second round of the NCAA Tournament on Saturday, March 18, 2017 (3/18/17) in the East Region at KeyBank Center in Buffalo, N.Y.
The winner advances to the Sweet 16.
We'll have up-to-the-minute scoring and stats here throughout the game. Check the scoreboard above and click on the stats link.
App users: For the best mobile experience, use the mobile web version.
Here's what you need to know:
Who: Wisconsin (26-9) vs. Villanova (32-3)
What: NCAA Tournament, second round
Where: KeyBank Center, Buffalo, N.Y.
When: Saturday, March 18, 2017
Time: 2:40 p.m. Eastern
TV: CBS
Livestream: NCAA.com
Line: Even
It's going to happen. Not this tear, but soon.
A No. 1 seed is going to lose to a No. 16, and with the direction college basketball is going of late, it may not even be considered that big of an upset.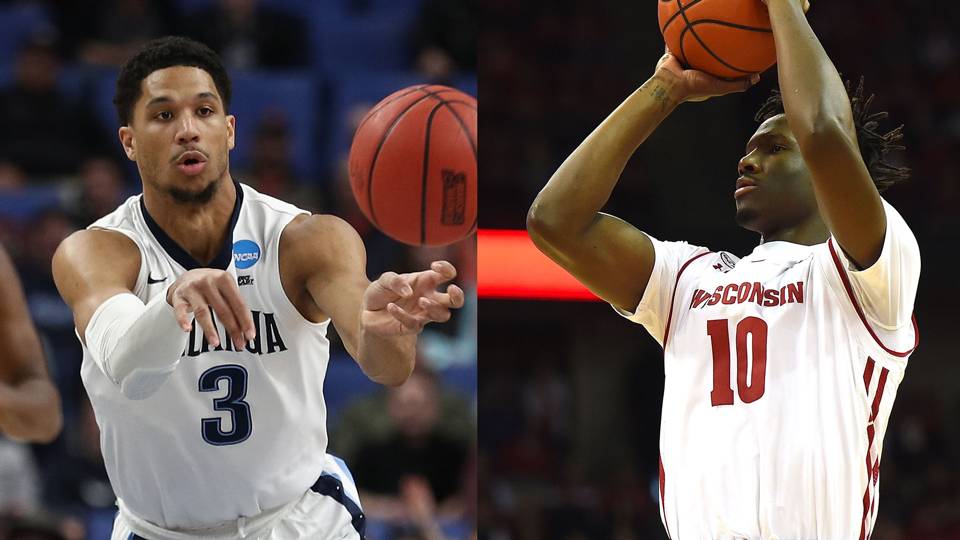 "The extremes are scooting closer to the (middle), year in and year out," Gonzaga coach Mark Few said after his top-seeded Bulldogs slowly inched away for a 66-46 victory over South Dakota State on Thursday.
Ranking NCAA Tournament mascots
"When you look, statistically, at all these things, and say, 'The 1 seed did this or that,' that might have been back in the day. When you look at how close these games have been" lately, it's a different story, he said.
In the first five years of the 64-team bracket, there were six games between 1s and 16s decided by single digits — none more excruciatingly memorable than Georgetown's 50-49 squeaker over Pete Carril's Princeton team back in 1989.
In the last five years, only four games have come down to single digits, including Gonzaga's too-close-for-comfort 64-58 win over Southern in 2013, the last time the Bulldogs were a 1 seed.
But there's more to these games than the final score, and Thursday's action — a pair of 20-point wins for the 1s — might have been Exhibits 1 and 1A.
Mount St. Mary's, fresh off a First Four win two nights earlier, looked more in sync and better prepared for one half against Villanova. Sparked by the guard play of Miles Wilson and Elijah Long, the Mountaineers had an 8-point lead early, and trailed by only 1 at the half before falling 76-56 .
"I do think some of it was Mount St. Mary's. I really do," Villanova coach Jay Wright said about his team's slow start. "I think those guards are smaller and quicker than any guards we played against. It gave us trouble."
(The Associated Press contributed to this report.)